Rancho de Soto Apartments
Living Details
Overview
Rancho de Soto Apartments is a CHIP-built and managed 33 apartment complex made up of 2, 3 and 4 bedroom apartments. Rental assistance available for those that qualify under the USDA regulations, in that the head of household must earn a minimum of $5,752.50 from agriculturally based employment. Amenities include a community room, computer lab, and monthly resident services such as ESL and GED classes.
Rent
Rent is based on a percentage of adjusted gross income. See income limits below: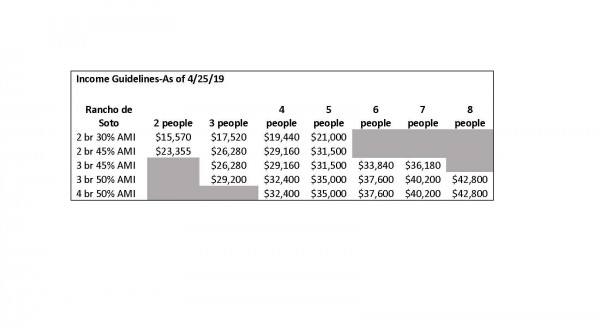 Want to Apply?
These forms are required to apply to be a resident (to download a form, right-click on the link and select "Save Link As" or "Save Target As").
CHIP doesn't charge any application or credit check fees.
Interested in Buying a Home?
Learn how CHIP can help you buy a home.
Contact the property manager of Rancho de Soto Apartments and get more information!