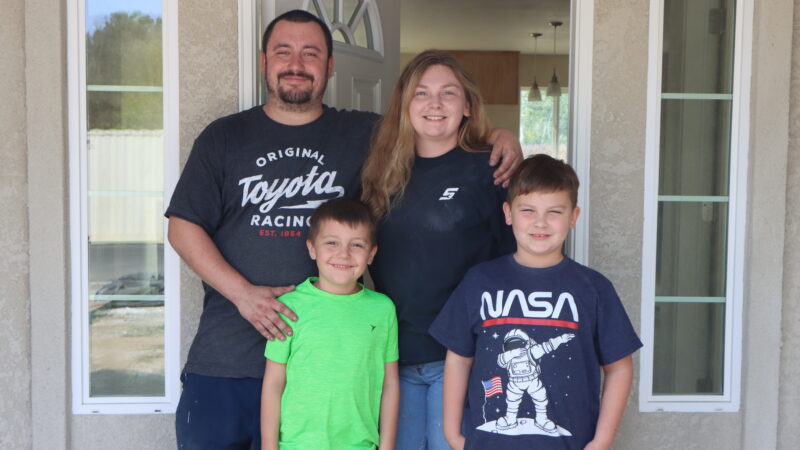 After the Paradise Camp Fire: CHIP gives survivors the chance to rebuild their lives
Cherylynn Richmond remembers waking up the morning of November 8 to a bright orange hue in her bedroom, something that didn't concern her at first.
"I thought it was beautiful," she remembers. "But then I got on social media and saw that people were afraid and trying to evacuate. I got a call from my mom … saying we should leave and that the fire was right down the street. That's when we left."
When she and her partner Chris Howard evacuated their Paradise home, they didn't take much—just a grocery bag full of clothes for their two young sons and a laptop to watch movies on.
"We thought we'd be back that night," she remembers. "And then we ended up not being able to come back for a while."
Richmond and Howard lost nearly everything in the Camp Fire. Gone were irreplaceable family photos as well as everyday necessities like clothes, furniture and the tools Howard earns a living with as a mechanic. One of the deadliest wildfires in the nation's history, it destroyed 18,804 structures, burned 153,336 acres, and took 85 lives in 17 days before being contained.
Fortunately, they were able to stay with family for a few weeks before finding a place to rent in Chico, where they've lived for the past several years. Even though it wasn't their first pick of neighborhoods to raise their family in, they were lucky to find a place to rent at all. After the Camp Fire, the lack of available housing—not just affordable housing—was a serious issue in the areas surrounding Paradise.
"This was a crisis in our community," says Seana O'Shaughnessy, president and CEO of Community Housing Improvement Program, also known as CHIP. "Housing development is so slow. … Every single home we build, every single home ownership opportunity, every single safe housing opportunity we give to people, particularly for the Camp Fire survivors, it means so much."
Even with the support of several aid organizations, Howard says that getting back on their feet was difficult; while there was a lot of help to go around, there was also a lot of need. When Richmond heard CHIP was giving first priority to Camp Fire victims, they jumped at the chance to build and own their home. While the application and approval process took some time, they both say it's an opportunity of a lifetime.
"The work that went in to get approved was nowhere near what you get out of it. When we look back, it was so worth it. I couldn't imagine living in a house that I'm paying way too much for," Howard says. "It was perfect, especially for a family."
For the past several months, Richmond and Howard have been rebuilding their lives one weekend at a time, alongside their future neighbors, in Biggs, California. With the support of experienced construction crews and supervisors, CHIP clients build their own homes and the homes of their neighbors. CHIP also helps clients with financing through USDA home loans.
"You don't just get a really good interest rate and a house where you get to raise your family, but you also learn a new trade [and] you meet people you're going to be surrounded by for the rest of your life. … We've actually found some of our best friends through this process of rebuilding," Howard says. "It's been amazing to meet people doing the same thing as you are and it seems like they all have the same idea: We're all trying to be good parents, we're all trying to build our home."
According to Howard, their home is slated to be completed around the end of the year, a feat he says wouldn't be possible without CHIP's help. The family also expects to see a much lower housing payment than their current rent.
"We're paying $1300 a month (in rent), but I know people who have gone through the CHIP program, who have built their house and they're paying $700 a month, living in a great neighborhood and they own their home," he says. "[They] would have never had the opportunity to own their own home, and I can say that for myself as well. … To own my house at 27 years old, [CHIP] made it happen."
Story written by Anne Stokes through the Chico News & Review.
Photo taken by Ray Laager.