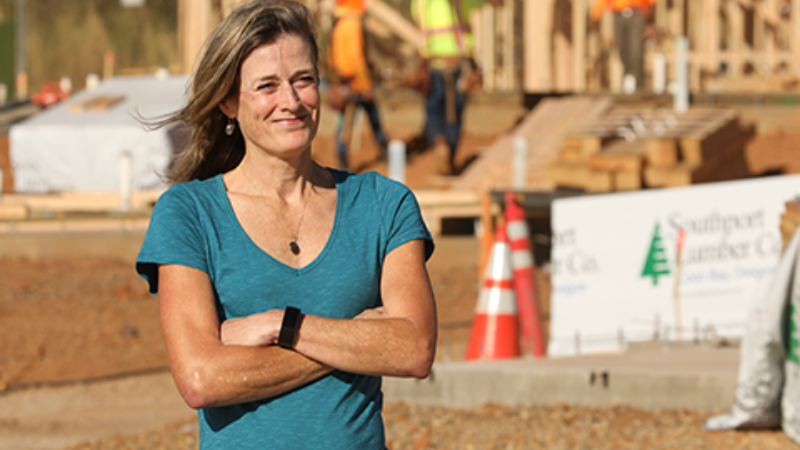 CHIP Announces Succession Plan for Kris Zappettini, VP/Director of Rental Housing
(©2020 Photo by Carin Dorghalli, Chico Enterprise-Record, reprinted with permission.)
Some people are good at planning, and some are exceptional… and then there's Kris Zappettini. We're honored to announce that Kris' succession plan is neatly in place. It's no surprise that it's a solid plan that provides CHIP an opportunity to continue to answer the region's urgent call for more affordable housing. Kris will transition from her directorship to a new role as Senior Project Manager, allowing her to see through the completion of two vital projects and for CHIP to find her successor. Kris will complete the rebuilding of the 36-unit Paradise Community Village and the new 101-unit Creekside Place, which is slated to begin construction in May, 2021.
Meanwhile, CHIP's talent search is currently underway, and CHIP hopes to fill the position as soon as possible. An exact date for Kris' last day is still to be determined. She'll look for that "perfect sunset" sometime in 2023 when Creekside Place wraps up, crossing out that final date on her corporate planning calendar to mark the end of a stellar career with CHIP.
Seana O'Shaughnessy, CHIPs President/CEO, says, "Because of Kris' careful planning, CHIP will not miss a beat as we continue to grow and expand to meet the housing needs of our region. I am incredibly grateful to her for thinking about both the short- and long-term stability of the organization."
Kris started with CHIP as a volunteer in 1993. All told, Kris' resume features various roles in 4 different CHIP departments. She acted as an interim leader four separate times, thrice in directorships and once as CEO. Where there was a need, she was there. Kris notes, "Experiencing a little of everything has made me appreciate the challenges and rewards each department goes through."
Kris began her CHIP career with a split appointment as a specialist for Urban Self-Help and Multi-Family, eventually becoming the Director of Rental Housing. Marie Demers, as a former colleague, recalls the early days saying, "It was new territory for us all, as there weren't official courses of study offered in affordable housing development, at that time. Through sheer grit, determination, trial and error, a great sense of humor and tenacity, we made a mighty team and accomplished much for our local communities." Demers adds, "I feel so incredibly fortunate to have worked with such a smart, dedicated, passionate, and creative colleague to produce quality affordable housing." Dave Ferrier, former CHIP CEO, recalls needing someone to help step up and focus their time and energy on CHIP's multi-family developments. "It's not easy coordinating all the external components of these projects, but Kris was a master at it," says Ferrier.  
Beyond the buildings, Kris also oversees the Resident Services Program, which provides resident-driven programming, services, and community building in CHIP's rental portfolio. The broad impact of Kris's tenure with CHIP can be seen in the various programs, like FUN (Family University Night), which is a collaborative with Chico State's Child Development Department to bring meaningful experiences and learning opportunities to families. Kris and her spouse also launched a yearly scholarship for CHIP residents that are attending high school in the Chico Unified School District. The endowed scholarship, the Milly and Dudley Zappettini Memorial Fund, is in honor of her late parents, who Kris credits as excellent examples of philanthropic activities.
By the time Kris wraps up her career, she'll have had a hand in producing seven developments (plus one complete rebuild), adding 318 residential units and 6 commercial spaces to the region. O'Shaughnessy says, "I have learned so much from Kris in the two years since I joined CHIP. She combines a deep passion for our work and mission with a careful attention to detail. Her thoughtful approach to housing development rental projects had made CHIP rental housing projects synonymous with quality construction."
A dependable leader throughout many stages of the organization and many highs and lows of the housing industry, Kris will undoubtedly be missed when her retirement finally arrives. Until then, we can continue to admire the tremendous work she does and enjoy the fruits of her labor. For many decades to come, generations of residents will find a wonderful place to call home, just as it was carefully planned.