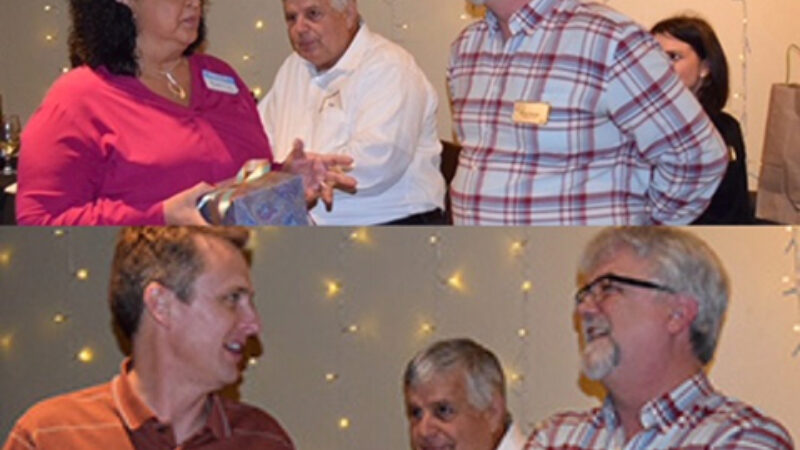 CHIP Awards Honors to Outstanding Service and Partners
FOR IMMEDIATE RELEASE         
January 23, 2018
CHIP celebrated staff and board members and presented Outstanding Partner and Service Awards at a celebration held at Unwined January 19 in Chico.
Bernie Perry of Timio's Title accepted the award for 2017 Outstanding Partner. "Bernie has been a partner with CHIP, closing our loans for many, many years now," said Judy Orozco, a loan packager at CHIP. "Bernie has gone above and beyond helping us at CHIP and also our clients."
Precision Business Associates' Nathan Souza accepted the Outstanding Service Award. PBA has provided CHIP with IT services for 12 years. "They are responsive to our computer, internet, and storage needs as well as professionally working with other vendors who interface with their work," said Interim President Kris Zappettini.  "Nathan Souza, in particular, has worked with CHIP to integrate important changes for security reasons and has suggested important system upgrades to meet our changing needs."
Both organizations are also sponsors of CHIP's fundraising efforts.
CHIP also said a formal goodbye to its President/CEO Dave Ferrier at the event.  Dave has been with CHIP for 35 years and has taken a position with Rural Community Assistance Corporation (RCAC). He will move to the Portland area where he can be closer to his children and grandchildren. We will miss him and are grateful for his many years of leadership and advocacy for affordable housing.
Community Housing Improvement Program
CHIP is a private, non-profit corporation providing quality affordable self-help housing, rental apartment communities and housing-related services to seven Northern California counties. The organization has built more than 2,000 housing units in the North Valley since 1973 and is a member of the NeighborWorks network.
###
For more information contact:
530.891.6931 x249