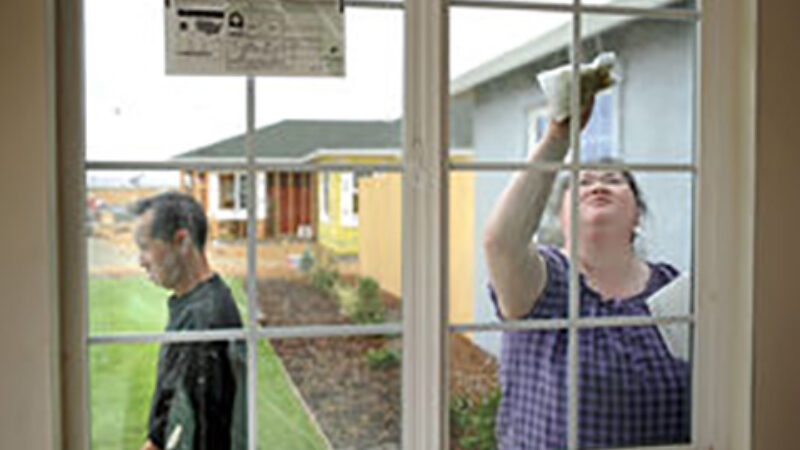 Programs helps residents have a hand in their new home
By Chris Kaufman, Marysville Appeal-Democrat 10-5-15
Until a few months ago, Sendy Gonzalez didn't know how to use a hammer. Now she lives in a house she helped build.
Gonzalez, 25, and her husband, Aaciel Gonzalez, 27, with their 1-year old son, Alonzo, are one of nine families moving into homes they helped build through the Community Housing Improvement Program, or CHIP.
"It was hard; I didn't know how to use a hammer," said Sendy Gonzalez, whose husband works in construction. "Getting up early every weekend to come work on the house then go home and do chores was a challenge." Construction on the homes began in March, with families working in groups of four to five to help build their homes, under the supervision of CHIP's corporate contractor, a foreman and subcontractors who ensure the homes meet building and safety requirements.
"I work in construction, so I knew what I was getting into," said Aaciel Gonzalez, of the project. "When it comes to things like this for your family, you put 100 percent into it."
Gonzalez said in their previous neighborhood, people mostly kept to themselves, but the CHIP program requires collaboration with neighbors to help build their homes and to instill a sense of community in the area.
"You see people hammering nails and using two hands, and you help them out to make it easier," said Aaciel Gonzalez, of the collaborative home-building style.
CHIP is a private, nonprofit corporation that provides self-help housing and rental apartment communities in seven Northern California counties. Since 1973, it has built 2,000 housing units in the area.
Desiree Gonzalez, communication specialist with CHIP, said families have to work on the homes 30 hours per week and fall below the median average income for the community they live in to be part of the program.
"It's mutual self-help, so they're working on their homes with their neighbors and it builds a sense of ownership," Gonzalez said.
Gonzalez and a team of CHIP associates were welcoming the families into their homes for a walkthrough last week. Some were moving in last week, while others will move in this week.
The nine families are the first two groups in CHIP's mutual self-help program, and more homes are planned for Sierra Vista, which is off Hammonton-Smartville Road near Griffith Avenue in Linda.
"They get to see what's behind the sheetrock and how a house is built," said Marr, who has a team of trade professionals and subcontractors on site.
Leo Romero, a construction foreman who has been working with CHIP for 15 years, qualified for the program a few years ago and took advantage of the opportunity.
"If I'm helping everyone else build a house, I might as well build my house," said Romero of Hamilton City. "Its really nice to see people get into building their own homes and to see the kids smile once they move in."
Tong Vang, his wife Lee Yang and their two children were cleaning and moving in last week after the move-in day celebration.
"It's a lot of hard work, but we're happy to be done," said Yang, who added it was a big learning experience. "Now, when something breaks, you know how to fit it."