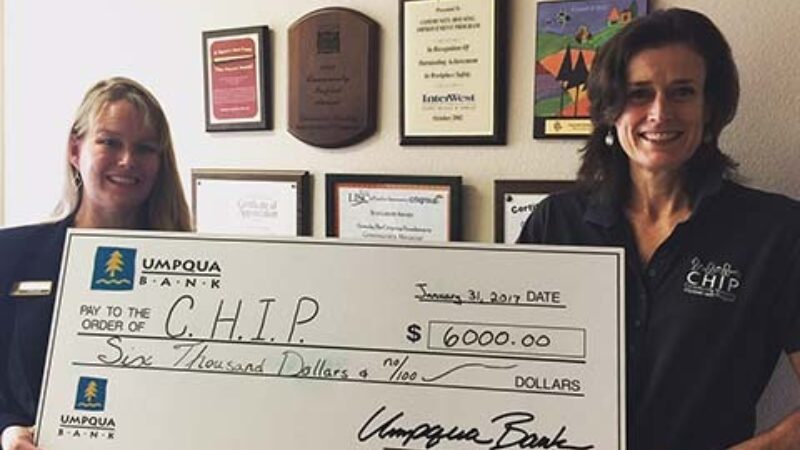 Umpqua Bank Gives $6000 to CHIP's After-School Programs
CHICO, CA-Umpqua Bank presented a $6,000 check to support after-school programs at three of Community Housing Improvement Program's rental properties.
This generous donation helps fund programs at Rancho de Soto Apartments in Orland, Marymead Park in Marysville and Murphy Commons Apartments in Chico. This is the second year Umpqua has made this gift to CHIP. They have also provided volunteers to help out at Rancho de Soto.
"It is very satisfying to partner with a local business who wishes to invest in their community through financial support and volunteering." Says CHIP's Director of Rental Housing Kris Zappettini. "We are grateful to be able to deliver important educational, social, and creative services to youth in Butte, Tehama, and Yuba Counties through this generous donation."
Lydia Golden, Rancho de Soto's resident manager, says she loves to see the kids excited about learning. "It also encourages their creativity, communication and ideas. It is a wonderful program and they all look forward to it."
Many of CHIP's resident services programs are provided with the help of volunteers who live at the properties and donations from the community. If you would like to make a donation or sponsor a program, contact Desiree Gonzalez 530-891-6931 x249 or dgonzalez@chiphousing.org.
Community Housing Improvement Program
CHIP is a private, non-profit corporation providing quality affordable self-help housing, rental apartment communities and housing-related services to seven Northern California counties. The organization has built more than 2,000 housing units in the North Valley since 1973.