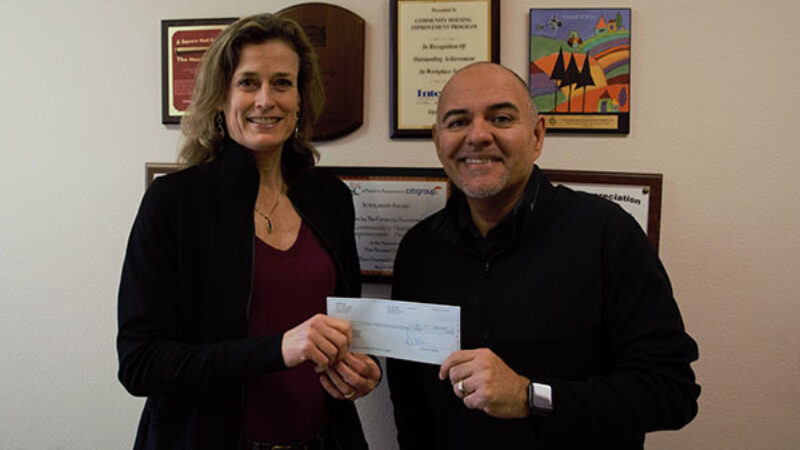 CHIP GIVES BACK TO CAMP FIRE VICTIMS
FOR IMMEDIATE RELEASE         
January 15, 2018
CHICO—Community Housing Improvement Program recently donated nearly $70,000 to support Camp Fire Survivors.
In November CHIP lost Paradise Community Village, its newer 36-unit affordable housing community in the Camp Fire. Nearly 100 residents and staff lost their homes in this disaster.
CHIP had planned to celebrate its 45th Anniversary at its annual Rock the House gala, which was canceled due to the fire. CHIP sent a message to sponsors and ticket holders offering refunds and promised to donate twenty percent of net income from this event to the Tri Counties Bank Camp Fire Fund. Donors allowed CHIP to keep the money and CHIP was able to present Tri Counties Bank with a $7,200 check from the proceeds for their Camp Fire Fund.
Additionally, CHIP focused its end of year giving campaign on Camp Fire recovery, and to date has distributed $60,500 to displaced low-income tenants of Paradise Community Village and to staff who lost their homes. CHIP has also raised more than $120,000 for a rebuild fund. Assistance has come from foundations, organizations and individuals from across the country, as well as locally. North Valley Community Foundation donated $25,000 to CHIP's resident victims' fund.
"CHIP has worked nonstop to help with both short-term and long-term needs stemming from this tragedy," says Desiree Gonzalez, CHIP's communications and fundraising manager. "We tracked our residents so we could keep in touch with them and provided funds to help get them back on their feet. For the long-term, we plan to be part of the solution to replace and increase the much-needed affordable housing that was lost in our service area."
Since 1973, CHIP has developed more than 2,600 affordable housing units in its seven-county service area, which includes Butte, Glenn, Tehama, Colusa, Shasta, Yuba and Sutter Counties. CHIP also partners with other agencies to provide on-site resident social and educational services to those who live in CHIP's rental housing.
If you would like to make a donation, visit www.chiphousing.org/donate or send a check to 1001 Willow Street, Chico CA 95928 attention Desiree Gonzalez.
###
For more information, contact:
Desiree Gonzalez
530. 891.6931 x249