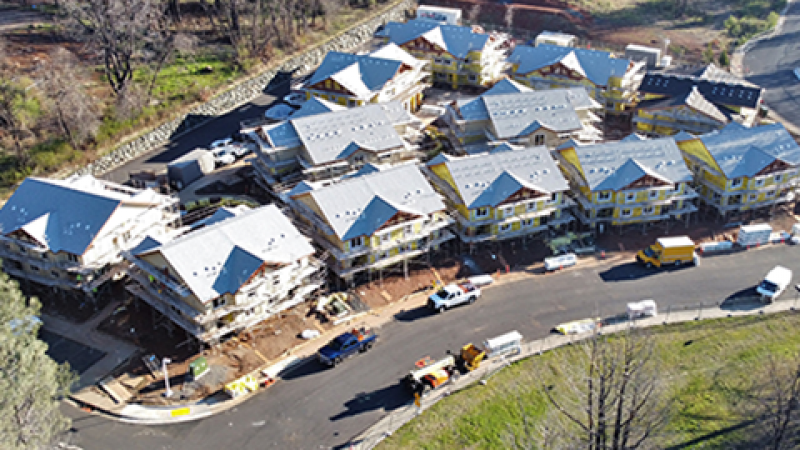 Donor Spotlight: Sunseri Construction with President/CEO, Donny Lieberman
Sunseri Construction is a general contracting company based in Chico. The company was founded in the early 1970s and has grown over the years, with employees in California and Nevada. They specialize in affordable housing and they've worked with CHIP as the general contractor on multiple projects, including Paradise Community Village's current rebuild. Sunseri Construction has a remarkable history in affordable housing with more than 10,000 units built.
Donny Lieberman is Sunseri Construction's President/CEO. He started his career as the company's Operation Manager in 1983 and cherishes the work they've accomplished for many mission-based non-profits. "I'm proud of our commitment to social justice and our advocacy in the work of affordable housing throughout our career," Lieberman says. He recognizes their vital work, noting the staff embodies the mission in their work. "Their hard work and dedication makes the work we do so special," he adds.
A building is more than just a building and Lieberman see just how the work they do benefits the community. "It is amazing to see the fruits of our clients' work…… the lives that are transformed by the housing they provide. Farmworkers, seniors previously living in their cars, families that just need an opportunity to stabilize their lives. It is so rewarding to visit projects we have been involved in years after construction. Seeing the smiles on faces and the gratitude expressed. This is what makes this work so meaningful," Lieberman says.
CHIP is incredibly grateful to have donors like Sunseri Construction. In these past couple of years, we have often spoken of the need for resiliency to weather life's storms. Through the housing crisis, Camp Fire, COVID-19, we have been fortunate to have their support and so many others who have stood by our side. We launched the "Build Hope" campaign last year knowing that it was too easy to get lost in the despair and not see all the positive results from having a strong community that's willing to roll up its sleeves and get hard work done. And in rare cases, to be able to do that work twice. Lieberman adds, "CHIP took great risks to build the first affordable community in Paradise and was unwavering in its commitment to rebuild this community following the Camp Fire. I look forward to celebrating its completion later this year and welcoming all the residents who lost their homes back."
We look forward to that day, too. We thank Sunseri Construction and their entire crew for all their great work.