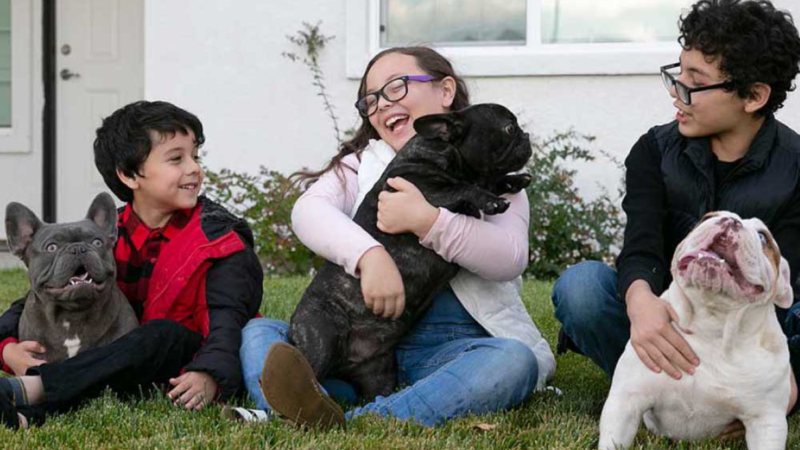 Giving People the Opportunity to Build Their Own Home from the Ground Up
Owning a home is the crown jewel in the American Dream. Particularly in California's current housing market, however, home ownership is increasingly out of reach for many families.
But for those willing to put in the work, CHIP's Self-Help Program can help make that dream a reality.
"We had always thought we were going to save up, but there's just nothing out in the market for anything cheap nowadays. Every year, you think, 'I'm going to save up,' and the prices just go up," says homeowner Jennifer Palafox. "Especially after the fires. … Before the fires happened, there was plenty of real estate, but after, there was nothing."
CHIP's program offers qualified first-time homebuyers like Palafox and her husband, Hector Rubio, the opportunity and support to build their own home. In lieu of a down payment, participants pay in "sweat equity," building not just their house, but helping their new neighbors build their homes too. In December 2021, Palafox, Rubio and their three children were able to move into their new home after renting for 11 years.
"It's really enjoyable when you start from the ground [up] and you build your own house. In the end you feel a lot of pride, all the work that's gone in, and not just into your home, but everyone's home that you helped build," Rubio says. "When you're all done, if you talk to most of the people, they'll tell you they're happy they built it and they're proud they did it. Not that many people now can say they've built their own house."
And it's not just houses that get built. For new homeowner David Gonzalez Jr., the most rewarding part of the program was building a new community.
"The whole process was building a really strong foundation for a great community," Gonzalez says. "I have a great relationship with my neighbors. Building together, that's what helped that."
For Palafox, however, the most important foundation they created was her family's future.
"You want your house to stand for a hundred years and leave a legacy for your kids if you decide to pass it down. It's not a rental home, you want to make it a home, and that's what we were able to do with this group," she says. "I think that's the end goal for everybody, to be able to have a house they can come home to and know, 'That's mine. That's going to be for my kids' future and they know they'll always have a safe home to come to.'"
Written by Anne Stokes of the Chico News & Review .
Photo by Ray Laager.