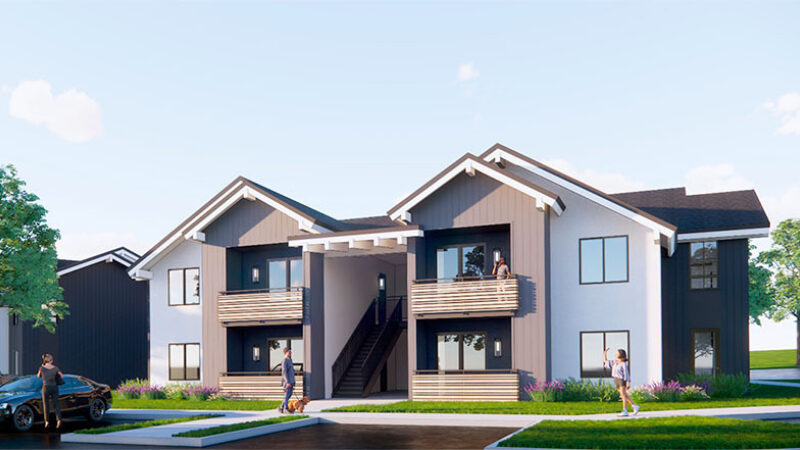 Lakeridge Circle Apartments
CHIP is in the very early development/planning stages for 63 units of affordable housing in Magalia, CA. The development aims to serve families and individuals, as well as seniors. The new affordable housing community will be called Lakeridge Circle Apartments.
The proposed development is aligned with the objectives of the Butte County General Plan and the Upper Ridge Community Plan, which was developed between Butte County's Department of Development Services and members of the Upper Ridge Community. Market demand for family units is high, according to the County of Butte's 2014-2022 Housing Needs Assessment, and has only increased due to the Camp Fire.
We'll be setting up meetings to get feedback from the public in the coming months, and this page will be updated when more information becomes available.

Development Milestones
2022 – Land was purchased
2023 – Design and input period (see site plan)
2024 – Secure additional funding
2025 – Construction is projected to start mid-year and has an expected duration of 18 months
2026 –Estimated opening
The Community
Lakeridge Circle Apartments will serve households between 30-50% of the Area Median Income for (AMI) Butte County. An on-site laundry room, community center, computer lab, community garden, and outdoor recreation area are planned. Resident Services will be offered on-site by CHIP staff and volunteers.
Please see the detailed site plan for the elevations provided by the architect.
Estimated Costs
This project is in the pre-development stages and the final funding sources have not been determined. The total development cost is currently estimated to be $32 million. The following financing sources are being contemplated or have been secured: 4% or 9% tax credits, CDBG-DR Funds, and Project Based Section 8 Vouchers.
CHIP has applied for CDBG-DR funding for this project and an application was approved for the Project Based Section 8 program through the Housing Authority of Butte County (HACB) to provide rental subsidy for 25 households referred to Lakeridge Circle Apartments by HACB.
Challenges/Obstacles
One of the greatest challenges to rebuilding in the burn scar is the timing and alignment of funding available for disaster recovery and affordable housing development. The remaining County allocation of CDBG-DR is not adequate. Additional challenges for the site are existing easements, the Watershed Protection Overlay Zone, and CEQA requirements. Our goal is to secure all other financings before applying for tax credits in 2024.
Rising construction costs and supply chain issues are also challenging the industry and may have an impact on this development.
Needed Gap Financing
Based on estimated total development costs, the financing gap is between $6,800,000 -$17,770,000. We welcome all sizes of financing opportunities and prefer grants and/or deferred loans, but CHIP considers all proposals presented.
Frequently Asked Questions
WHO IS BEHIND THE DEVELOPMENT?
Community Housing Improvement Program (CHIP) is the developer and will be the property manager. CHIP currently operates Paradise Community Village in Paradise (opened in 2013, destroyed in 2018, rebuilt and reopened in 2021). CHIP manages 19 affordable housing communities (1,000+ units) in its 7-county service area (Butte, Glenn, Tehama, Shasta, Colusa, Sutter, and Yuba counties).
WHAT IS BEING DEVELOPED?
63 units of affordable housing will be built on 18 acres. There will be 8 two-story apartment buildings consisting of 1-,2-, and 3-bedroom units. There will also be 1 community building.
WHO WILL BENEFIT FROM THE DEVELOPMENT?
Seniors, families, and individuals that are earning between 30-50% of the Area Median Income for (AMI) Butte County will benefit from this affordable housing community.
WHAT WILL THE DEVELOPMENT LOOK LIKE?
Please take a look at the site layout and designs. Amenities include an on-site laundry room, community center, computer lab, community garden, and outdoor recreation area. Resident Services will be offered on-site by CHIP staff and volunteers.
WHAT FIRE SAFETY AND ENVIRONMENTAL CONSIDERATIONS ARE BEING MADE?
The California Green Buildings Standards Code (CALGreen) will be adopted to promote Green Building Sustainability, and Energy Efficiency in the proposed project. The proposed project will also be designed to incorporate principles of sustainability, including water and energy efficiency, resilience, and mitigating the impact of future disasters.
The buildings are designed to meet Wildfire Urban Interface (WUI) standards. Additional fire safety design considerations will be made in collaboration with the Butte County Fire Safe Council. View the site plan to see more information on the egress points.
CAN DISASTER SURVIVORS BE GIVEN PREFERENCE?
CHIP is working in partnership with the Town to determine preferences for Camp Fire survivors.